Wedding Table Decorations
Finding and planning just the right wedding table decorations can create the perfect atmosphere for your wedding day. Especially for couples who are celebrating in a venue where there are many elements that they cannot change, such as listed buildings or hotels, creating the mood and tone for your wedding can be most easily done by picking the perfect wedding table decor. There are a range of wedding table elements that you can utilise to develop a wedding theme, and this guide to wedding table decor will help you find the perfect ways to enhance your special day. The key components are:
• centrepieces
• place settings
• lighting
• flowers
• scatters.
In addition, there are a number of different tables to consider. This very much depends on your wedding style – for a rustic wedding breakfast there may just be one or two long tables, with everybody sat side by side, and maybe a buffet table, while for a more formal wedding there could be a top table, a cake table, guest tables, and a gift table which may also double as a signing table. Whatever the style of your wedding and whether you choose to buy or make your own decorations or opt for wedding table decorations for hire, we have some suggestions to make your day outstanding.
Wedding Table Decorations for Top Tables
If you have a top table, it's important to think about its function. Part of the reason for a top table is to allow all your guests to see you, so make sure your wedding table decor allows bride, groom and key speakers to easily seen. This may mean keeping centrepieces low, or alternatively raised above head height. Raising a centrepiece can be done by choosing tall candlesticks and vases so that the actual wedding table decorations cascade down but don't block the view. Alternatively, low but elegant wedding table decor can be achieved by using votives and low candlesticks, and fluid, table-height floral displays such as sprays of jasmine and bougainvillea or autumn leaves or winter pine branches laid along the table. This is a fantastic time to include scatters in your wedding table planning, as a sprinkling of crystals or a collection of glass paperweights can add sparkle without obstructing people's vision.
Wedding Table Decorations for Guest Tables
Similarly, on guest tables, try to ensure that your wedding table decor doesn't make it impossible for people to see those sat on the opposite side of the table. You might choose to incorporate bridesmaids' bouquets into your guest table decoration, especially if your bridesmaids are to be seated at those tables.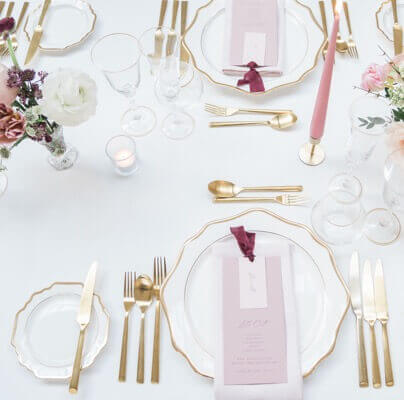 Uniting top table and guest tables using table runners and crockery or cutlery gives a unifying theme and mood. For example, one recent wedding had a deep rose table runner on the top table, blush pink on the next two tables and a light apple blossom pink on the next two.
Harmonised with matte gold cutlery and gold rimmed pink dinnerware, it made for a distinctive display, especially as male guests' buttonholes harmonised with the table runners. Taper candles can also be used in a range of colours to blend in with or contrast to your chosen wedding table decorations.
Your place settings can also offer an extended wedding theme. Dinnerware, cutlery and glassware will create a mood of elegance, simplicity or charm while the way you fold napkins and decorate place cards can enhance the overall mood you're trying to create. Coordinating the colours of your dinnerware, napkins and flowers will give a more formal feel, while choosing an eclectic range of colours and shapes will give a more relaxed and whimsical approach.
Cake Table Decorations
One of the most important features of a cake table is that the couple should easily be able to cut the cake! This means ensuring that you don't have complicated decorations that get in the way or might topple over – as this is a point when people often want to take photos, making sure that you have good lighting is also essential. Scatters can be a great addition to your cake table – consider rose petals for a summer wedding or autumn leaves for later in the year. Beach themed weddings can look amazing with sea shells strewn on the cake table, while a winter celebration can be augmented by snowflake shaped confetti.
Gift Table Decorations
Don't forget your gift table – it's vital for guests who show up at the reception with their gifts to have a clearly labelled place to put down their goodies. Your wedding table decor can be utilised here by adding a table runner that harmonises with the rest of the decor and either a simple placard or maybe a banner that shows what the table is for. Key tip – many guests will put their drinks down on any available table, so it's always worth appointing a bridesmaid to keep an eye on the table and move any gifts to the back, so they don't get splashed if a glass gets knocked over.
The Luxe Collection Wedding Table Decorations Collection
The Luxe Collection ~ Beautiful Wedding Table Decor Ideas
For even more inspiration visit our sister site Jennifer Louise Weddings, where we specialise in wedding table decor styling. We bring modern romance to life to create classically elegant wedding table decorations just for you.