Glass hurricane candle holders add a wonderful – and safe – touch of style to a table or wedding display.
What is a hurricane candle holder?
The name hurricane candle holder once referred to tall glass chimneys that were placed over a candle to protect it from a draught. They were especially useful in hurricanes, when normal candles would be blown out instantly. Today, a glass hurricane candle holder may be a simple glass tube or a tall straight-sided column with a glass base, and often comes in a range of heights to add depth and glamour to a table scape.
Traditionally hurricane candle holders held simple cylinder candles – but today they can be used in wonderful and evocative ways to enhance wedding decor, to serve as the centrepiece for a dining table or as a focal point on a mantelpiece.
Wedding decor and party planning with hurricane cable holders
When hurricane candle holders, glass based, are displayed in groups, they can create not just a romantic impression but a real sense of the theme and emotion of a wedding. Here are some fantastic examples that we've seen at recent weddings:
• Coastal vibe – tying white rope around hurricane candle holders immediately evokes a seaside feel, while filling others with sand and shells, pebbles and sea-glass can enhance the seaside vibe. This can be further developed at a reception by putting floating candles in glass hurricane candle holders that have been filled with blue tinted water, to bring a sense of the ocean to your celebration meal.
• Smoke and mirrors – nestling hurricane candle holders of varying heights against a mirror and piling greenery swags, peonies or red roses around the bases delivers a sense of high romance. With lowered lights and accents in gold or bronze, a magical impression will be created. Ideal for evening receptions or fairy tale dinner parties, this design approach is lush and languorous.
• Rustic charm – fill some hurricane candle holders with tall white candles and tie gingham ribbon or raffia around them. Others can be packed with tiny pumpkins, stacked with wildflowers or filled up with fresh berries, offering a fresh, natural atmosphere which perfectly accompanies a barn wedding or garden celebration.
Hints for decor with hurricane candle holders
An uneven number of candle holders can make a more satisfying display, although for a minimalist look, ranging candle holders with candles alternated with a single bloom like a lily along the centre of a table can create an impressive but very simple look. Mixing hurricane candle holders with other candlesticks can be a dazzling way to light your special event.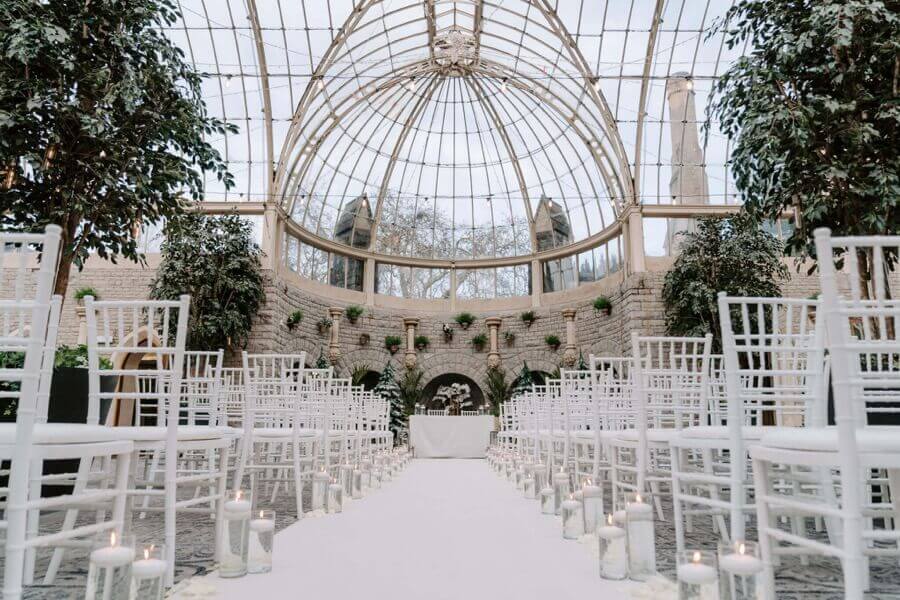 Hurricane Candle Holders ~ Decorating a Wedding Aisle
For even more inspiration visit our sister site Jennifer Louise Weddings, where we specialise in wedding table decor styling. We bring modern romance to life to create classically elegant wedding table decorations just for you.